As part of the Office of Inclusion and Intercultural Relations (OIIR) Lunch on Us series, Diversity & Social Justice Education hosts the Conversation Cafe lunch series, which is paid for in part, by the Student Cultural Programming Fee (SCPF).
Please join us Spring semester 2022 as we partner with the University YMCA for Conversation Cafe + Friday Form, where we will hear responses to the following questions from community leaders, scholars, creatives, and leading voices in the fight for racial and social justice:
How can we nurture our commitment to faith and radical hope in the face of racism, grief, and loss?
How can we cultivate a community grounded in restorative justice, liberatory education, and racial equity?
How can we find power and resilience through radical printmaking, documentary fiction, and authentic storytelling?
This series is radio broadcast at 6:00 PM on WEFT 90.1, the Wednesday following the lecture. Urbana Public Television also provides recordings of past lectures on their YouTube channel.
PRESENTATION SCHEDULE
All presentations will be held February 4, 2022 - April 8, 2022, at noon, in Latzer Hall, within the University YMCA, followed by a conversation with Diversity & Social Justice staff at 1:00 PM.
To register to attend online: https://go.illinois.edu/FFCCregistration
Friday, February 4, 2022 - Will be held online only due to severe weather
William Estrada
Art at the Y: Radical Printmaking
William will present on his socially engaged community projects and invite participants to reflect on the opportunities they may have to bridge the gaps between the arts, culture, and education. The presentation will invite the audience to consider how they can reimagine exhibits, public programs, and events in creative spaces that blur hierarchies and invite people to engage in complex public dialogue on race and power.
Friday, February 11, 2022
Stacey Robinson & Jason Finkelman
Improvisation & Disruption along the Parable Path CU
Recognized for their artistic work in bridging community and campus through collaborative projects, Stacey Robinson and Jason Finkelman share affinity for speculative futures, sonically inspired imagery and amplifying voices along the Parable Path CU.
Friday, February 18, 2022
Marlon Mitchell & Crushion Stubbs
Building Community through Reentry
"First Followers is a reentry program based in Champaign, Illinois. We provide services and guidance to those impacted by the criminal justice system. Our advocacy and outreach initiatives aim to build healthy relationships that positively impact communities. First Followers' mission is to build strong and peaceful communities by providing support, guidance, and hope to formerly incarcerated people and their loved ones through peer mentorship".
Friday, February 25, 2022
Jennifer Bailey
Can You Hear the Women Wailing? Reflections on Faith, Race, Loss, and Radical Hope
Rev. Jen Bailey is an ordained minister, public theologian, and national leader in the multi-faith movement for justice. She is the Founder and Executive Director of Faith Matters Network, a Womanist-led organization equipping community organizers, faith leaders, and activists with resources for connection, spiritual sustainability, and accompaniment. Her first book, To My Beloveds: Letters on Faith, Race, Loss and Radical Hope, was published by Chalice Press on October 12, 2021.
From the Southern Freedom Movement to contemporary struggles for civil and human rights, Black women have played an instrumental role in the quest for justice in the United States. Over the past severals, calls to "trust Black women" have focused on Black women's civic participation and emphasized the role #blackgirlmagic in "saving democracy". Yet less attention has been paid to the role of grief, loss, vulnerability as a catalyst for Black women's leadership and community-centered approach to social change. This 45 minute Friday Forum will center the stories and leadership of everyday Black women whose names may not be in history books but whose legacies have helped turn the tide of racial justice struggles in the United States.
Rev. Jen Bailey is also the keynote speaker at the Illinois Interfaith Conference, February 25- 26, 2022. For more information about the Interfaith Conference visit: https://go.illinois.edu/InterfaithConference
Friday, March 4, 2022
Jacqueline Lyon & Christian Mejía
Film: Community Resistance to Gentrification in Chicago
Set in the gentrifying neighborhood of Logan Square, Chicago, Born & Raised is a bilingual anthology series that offers intimate portraits of a community exploring diverse expressions of Latinidad, while resisting displacement.
Friday, March 25, 2022
Sesali Bowen
Sesali Bowen is a multifaceted writer, media personality, and cultural commentator with a knack for plus-sized style. She is the former Senior Entertainment Editor at NYLON magazine, one of the architects of Refinery 29's Unbothered, and the author of the memoir/manifesto, Bad Fat Black Girl: Notes from a Trap Feminist (Amistad, 2021). Sesali is also the creator, producer, and co-host of Purse First, the podcast about female and queer rap. Her work has appeared in Cosmopolitan, the New York Times, and InStyle. Sesali is currently freelance copywriting for companies like Netflix. She was born and raised on the Southside of Chicago and was once forced to drop out of University of Illinois before transferring to DePaul University where she received her bachelor's in Gender Studies. She received her master's in Women & Gender Studies from Georgia State University. She loves press on nails and direct deposits. Sesali currently lives in New Jersey.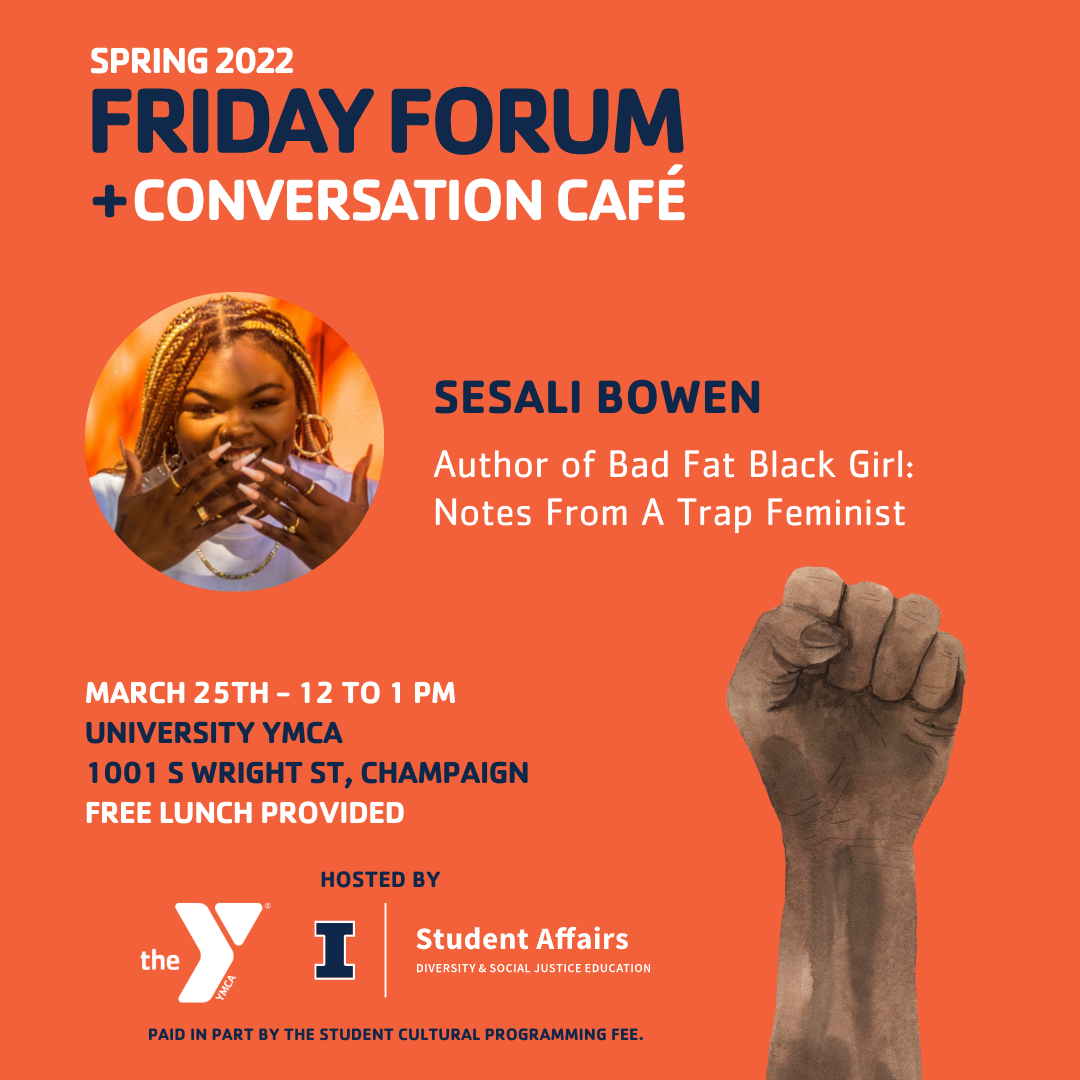 Friday, April 1, 2022
Minnie Pearson NAACP - Champaign County
The NAACP Champaign County Branch serves the People of Champaign County by working with all elected local leaders and community partners as they network to improve civil and equal rights for all people.
Thom Moore Social Justice and the Equality Prize
Drawing on Dr. King's I Have a Dream speech and Other America speech we will see that there is much work yet to be done, and how important it is to not get redirected and lose sight of the prize.
Friday, April 8, 2022
Ken Salo, Angela Ward, Brenda Taylor
In The Wake of Unit 4's Resolution Against Racism
SPONSORS
This series could not happen without the generous support of local individuals, organizations, and departments. We would like to thank all the members of the Conversation Cafe + Friday Forum committee, and the following sponsors for helping to bring us this spring 2022 series:
Bruce D. Nesbitt African American Cultural Center
Center for Advanced Study
Department of Urban & Regional Planning
First Mennonite Church of Champaign-Urbana
Humanities Research Institute
LGBT Resource Center
Social Action Committee of the Unitarian Universalist Church of Urbana-Champaign
Urbana-Champaign Friends Meeting
Women and Gender in Global Perspectives Program
Women's Resources Center
Further information for the University YMCA Friday Forum can be located at: https://universityymca.org/friday-forum
Disability accommodations are available by contacting Teryl Brewster at tbrewste@illinois.edu. A sign language interpreter is available with at least 72-hours notice by contacting the University YMCA at (217) 337-1500.